ERIC GALES - MIDDLE OF THE ROAD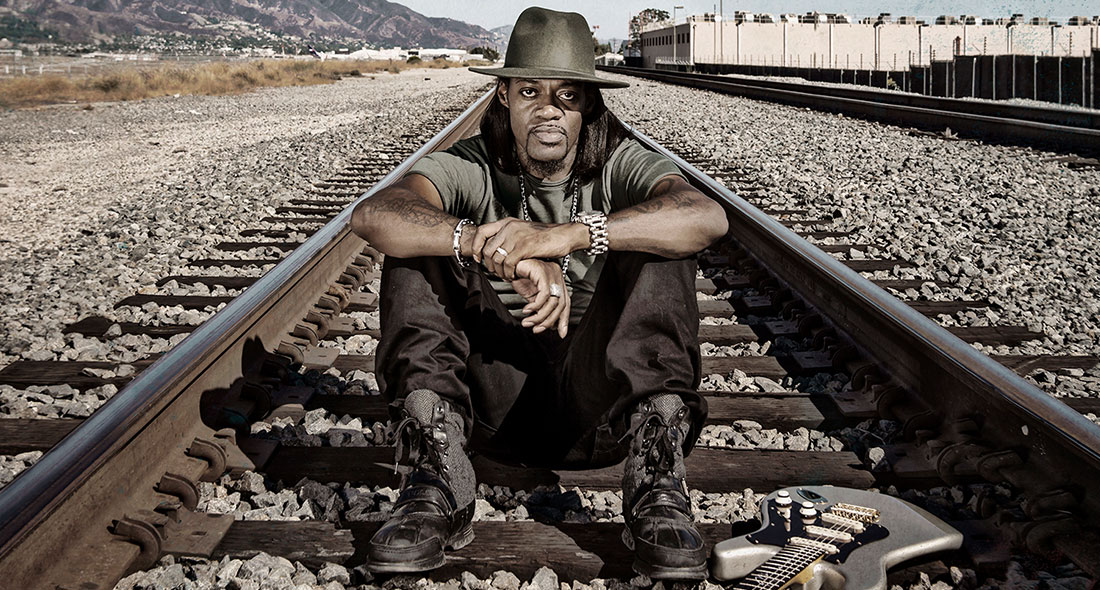 'Middle of the Road. The rebirth of Eric Gales, one cover and a lifetime of inspiration.
"One of the best, if not the best guitar player in the world" Joe Bonamassa
"He is absolutely incredible" Carlos Santana
"How Eric Gales isn't the hugest name in rock guitar is a total mystery" Dave Navarro
"This guy could be the best player on Earth" Mark Tremonti
You want the blues?
"Unfortunately you have to go through some things to be free", says Memphis born Eric Gales. "Now, I feel the most free I've ever been in life, even more so than when I was a kid", he opens up. "You gotta help yourself man, once you can help yourself you can genuinely help someone else."
The title of his new album Middle of the Road will be released on 24 February 2017 and is the running theme throughout the record. "It's about being fully focussed and centred in the middle of the road. If you're on the wrong side and in the gravel you're not too good and if you're on the median strip that's not too good either, so being in the middle of the road is the best place to be."
Middle of the Road is Eric Gales fourth album on Provogue/Mascot label Group (Joe Bonamassa, Beth Hart, Black Stone Cherry, Warren Haynes, The Robert Cray Band, Robben Ford, Eric Johnson, The Kenny Wayne Shepherd Band) after Transformation (2011), Relentless (2010) and The Psychedelic Underground (2007) and it sees him at his most expressive yet; it is a deeply personal and reflective record that echoes where he is in his life right now and he opens himself up and allows himself the chance to really flourish.
It's well documented that Gales was a child prodigy and heralded as the second coming of Jimi Hendrix when he released his debut album The Eric Gales Band in 1991 as a 16 year old on Elektra Records. It was the first of 10 albums on a major label through a blistering career. He has released 14 studio albums in total ahead of Middle of the Road and a host of other collaborations, one of which led him to work with producer Fabrizio Grossi (Alice Cooper, Joe Bonamassa, Billy F. Gibbons, Ice T, Leslie West, Slash, Walter Trout, Steve Lukather, Steve Vai, Paul Stanley, Supersonic Blues Machine).
Tracklist:
Good Time
Change In Me (The Rebirth)
Carry Yourself
04. Boogie Man (feat. Gary Clark Jr.)
Been So Long
Help Yourself (feat. Christone "Kingfish" Ingram)
I've Been Deceived
Repetition (feat. Eugene Gales)
Help Me Let Go
I Don't Know
Swamp
Album info:
Release date: March 24, 2017
Available formats: 180 gram vinyl, CD and Digital
Additional info:
You need to Log In to see all the content (Press & promoters only).
If you don't have a login, please request access using the contact form page.
PHOTOS
To download the high-resolution version, please right click on the photos and choose "save link as" to start download.
If you want to download all the photos at once, please download the press pack.